Eliza Lomas checks in with Viet Thanh Nguyen a few times over the period of one year to see how he takes on the task of writing his memoir for BBC: In The Studio.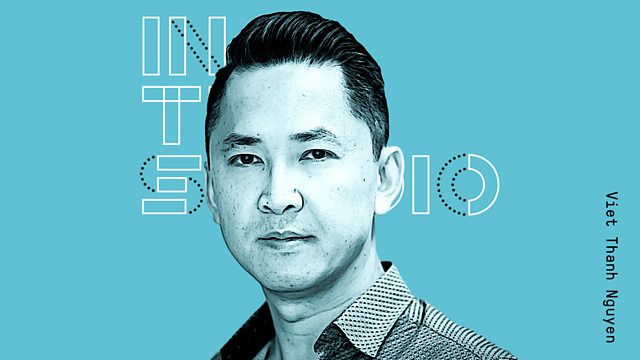 Pulitzer Prize-winning author Viet Thanh Nguyen brings listeners inside the writing of his new book: a memoir, of sorts. In a departure from fiction, the Vietnamese-American writer takes on a new, deeply personal challenge.
When he was only four years old, Viet's family fled the war in Vietnam, eventually settling in California. Too young to remember these events, his writing often explores secondhand memories of war, inherited trauma and refugee experiences.
Eliza Lomas catches up with Viet a few times over a twelve-month period: in the early months of 2020, again in the summer, and finally towards the end of the year. Throughout this time, Viet is finishing the final edits on his forthcoming novel, The Committed, and dives into writing his next book.
This journey requires him to dig deep into his past and make difficult decisions about what to include and how personal he should be. Sometimes he gets so stuck all he can do is change the font on the manuscript. Yet he also has success, some days reaching his target of 1000 words a day.
For Viet, writing is a political act: he believes that sharing his family's experiences is crucial to reshaping American representations of Vietnam and of refugees more widely. Central to his philosophy as a refugee author is to "write with all the privileges of the majority, but with the humility of a minority."
Listen to the interview on BBC or read the transcript below.
Intro:
Inspiration is for amateurs.
Intro:
It is a wonderfully chaotic place.
Intro:
Loud and bursting with personality.
Intro:
How did he do this? What's real? What's not?
Intro:
I feel the vibe.
Intro:
I need to feed off activity.
Intro:
I want people's senses to be engaged.
Intro:
In the studio.
Intro:
In the studio.
Intro:
In the studio.
Intro:
It's magical.
Intro:
Okay. How do we make this thing?

Laura Hubber:
Why do we want to hear other people's stories? And what can they tell us about our own? These are a few of the questions raised in this week's In the Studio podcast from the BBC World Service. If you're new to the podcast, I should let you in on a secret. In the Studio isn't always set in an actual studio. Instead, the studios we enter are really the minds of some of the world's leading creatives. As we dig deep into the artistic process and share the highs and the lows of dragging an artistic idea into reality. I'm Laura Hubber, your resident curator. And I invite you to come on in as we talk to Pulitzer Prize winning novelist, Viet Thanh Nguyen as he tackles his new project, a memoir.

Laura Hubber:
Viet and his family were refugees in America. After what the Vietnamese called the American War of the 1970s. In his novel The Sympathizer, Viet explored the history of the war from the Vietnamese point of view. But as he gave interviews about the novel, he found people asking him uncomfortable questions about his own past growing up in California.

Laura Hubber:
Forced to confront the pain of his personal experience, Viet decided to make exploring it a literary project. But how do you know what parts of your life to tell? How do you decide what's important? Telling your own personal story is powerful. Psychologists now believe the most successful indicator of good parenting has less to do with what happened to you in your life and more to do with how you've managed to make sense of your story. So let's join our reporter, Eliza Lomas, who's followed Viet Tang Nguyen over the course of a year, as he crafts his memoir and navigates the challenges of working at home during COVID, a tense presidential election, and the responsibilities of teaching.
Eliza Lomas:
I've long been drawn to Vietnamese authors, partly because I lived in Vietnam for a few years. I was fascinated to discover how, what history describes as the Vietnam War, is known in Vietnam itself as the American War. It's hard to think of a starker example of the importance of perspective.

Eliza Lomas:
I admire Viet Thanh Nguyen as a storyteller and for his powerful ability to challenge American representations of Vietnam, the war and refugees more broadly. I first came to Viet's writing through his striking collection of short stories, The Refugees. It features characters displaced from wartime Saigon, resettled in California, exploring how war lives on long after it's officially over.

Viet Thanh Nguyen:
As a writer, you have to go where it's terrifying. No one can really teach you how to do that. You have to learn it for yourself.

Eliza Lomas:
Viet Thanh Nguyen was born in Vietnam. As Saigon either fell, or was liberated, according to whose side you were on, his family became refugees in 1975. Viet was just four years old. These experiences have shaped Viet's writing and bring him to this place as he embarks on something new to him, a memoir of sorts.

Viet Thanh Nguyen:
Yeah. And the memoir basically starts with the history that you mentioned. It starts with that whole history of being born, of escaping Vietnam in a very dramatic way, which I just want to stress, happened to everybody. You know? Americans are shocked when they hear Vietnamese refugee escape stories and Vietnamese refugees are like, "Yeah, well, that happened to everybody." So I don't try to make too big of a deal out of it. Then we get to the United States in 1975, arriving as refugees.

Viet Thanh Nguyen:
For all the Vietnamese refugees in order to leave their refugee camp, we had to have an American sponsor. In our case, no sponsor would take all of us. So one sponsor took my parents. One sponsor took my 10 year old brother. One sponsor took four year old me. This is sort of the originary moment of trauma that initiated me into memory. And then spending three sort of nice years in Harrisburg, Pennsylvania, and then moving to San Jose, initiating this most difficult decade of our lives in America.

Eliza Lomas:
I spoke to Viet over the course of a year, following the process of him writing this new, deeply personal project. The first time we speak nearly a year ago, he's just finished the follow-up to The Sympathizer called The Committed. He's at home in Pasadena, Los Angeles.

Viet Thanh Nguyen:
I am sitting in my office, which is in the basement of my house. It is the first private writing office I've ever had. I've only had it for a couple of years. Most of the time I wrote sitting in a corner of a bedroom, looking at a blank wall. Not very attractive, not very romantic, but this office is very nice. So it has beautiful bookshelves. And I'm looking out a window into my backyard, which is green, has a view of the sky and the tops of trees. And it's about as ideal of a writing situation as most writers would want. I think the only drawback is I'm underneath the living room of my house. And when my son is on breaks from homeschooling and he's jumping up and down, playing in his very excited state, it feels like there's an earthquake happening above me. So that's the only drawback of this office.

Eliza Lomas:
Do you have any inspirational quotes or sticky notes or anything like that around?

Viet Thanh Nguyen:
You know, John Lewis, when he died, I clipped his final op-ed he'd written this and it was published posthumously. John Lewis is very inspirational and I met him in 2016 at the National Book Award ceremony in New York City when he won the National Book Award for his graphic novel March about the civil rights protests that he was a part of. I have a picture with him from that ceremony and the op-ed that was published after his death is titled Together you can Redeem the Soul of our Nation. I hope that's possible. And that's why I keep this clipping here on my desk.

Eliza Lomas:
Tell me about the new project that you're working on.

Viet Thanh Nguyen:
After The Sympathizer came out in 2015, and especially after it won the Pulitzer Prize in 2016, I received a lot of interview invitations and lecture invitations. And I started to think a lot about my life in a non-fictional way. I'd rarely talked about myself personally, or written myself personally before these interviews and these lectures, but gradually a narrative about myself started to emerge.

Viet Thanh Nguyen:
And I started to think about things that I had not thought about in a very, very long time. Things that had caused me pain and difficulty as a refugee and during my childhood and adolescence. And I'd put them away and not dealt with them. And all of a sudden I found myself dealing with them as people asked me questions about my life.

Viet Thanh Nguyen:
And some of these experiences made their way into essays that I wrote for various publications from the New York Times to Time magazine. And my editor said, "Why don't you do a non-fiction book?" And I thought, okay, fine. That sounds good. Good idea. But I wanted to do more than simply take all of these essays and slot them together and call them book. I wanted to write something that would be coherent, original, and that would be a work of literature, not just a compilation of speeches and essays that I'd given.

Viet Thanh Nguyen:
And so that's the germ of this book that I'm working on.

Eliza Lomas:
And you've enlisted some help in this early stage.

Viet Thanh Nguyen:
Sure. I called on a freelance editor that I had worked with on my previous non-fiction book. Nothing Ever Dies. Her name is Zoe Ruiz. And the reason I asked her to work with me is because I knew her, but also because she's a creative writer. She has an MFA and likewise with this, it was important for me to have another set of eyes, belonging to someone who would approach it as a story. I think she compiled four very thick binders of the verbiage that had spewed forth in the last three or four years. But one thing I want to stress here is that I did all of that while I was also writing The Committed and that I think speaks to my own writing process.

Viet Thanh Nguyen:
I'm always writing multiple things at the same time to make sure that I was always writing. If I ever had a block in one writing project, I could just switch to another writing project. And the other point for writing all these speeches and op-eds and so on, is that they were also a way for me to be engaged with the various kinds of issues that I felt were important for me as a writer to speak out about.

Viet Thanh Nguyen:
During the last three or four years, a lot of those issues happen to be around migration, refugee experiences, identity, the struggle for what it means to be an American in an extremely politically divisive time in the United States. And so the non-fiction book that I'm about to write, I think, will address all of those issues.

Interviewer:
The amount of people moving around the world today, especially going across the Mediterranean, can people ever really assimilate to the countries where they end up in?

Viet Thanh Nguyen:
I think I'm a perfect example of that. I mean, if you didn't see my face and just heard my voice, I probably could pass for an American. And in most features of my life, I'm very much an American.

Viet Thanh Nguyen:
Obviously I think a lot of the fear that people have about refugees is that they think they are utterly foreign, that they bring various kinds of contamination with them, whether that's physical or spiritual or religious or linguistic. But I think really what's also frightening about refugees for a lot of people is that they remind citizens of stable countries that the privileges that they take for granted might actually be really fragile.

Viet Thanh Nguyen:
Now one day a natural disaster or a war might eventually come and make them into refugees too. These are all the various kinds of complex, psychological cultural reasons that make people afraid of refugees. When in reality, you look at the waves of refugees that have come to the United States and Europe. Oftentimes they've been very successfully assimilated.

Eliza Lomas:
The next time Viet and I are due to speak it's summer. We were originally supposed to chat in person, but this is 2020. The plans have been scrapped. Nevertheless, I'm very curious to know how the first draft has been progressing.

Viet Thanh Nguyen:
I started putting words on the paper, and then of course, what happened was everything went to hell with COVID descending upon all of us. And I think part of the irony there is that, of course, things went very badly for everybody.

Viet Thanh Nguyen:
And certainly, it was very distressing for me personally, but as a writer I was actually okay. I mean, I just stayed at home and I wrote. What I tried to do with this manuscript is give free rein to my imagination. And for me, every book requires a different form. So try to find the right form for the book.

Eliza Lomas:
A couple of days before our chat, you wrote an amusing tweet. It said, "Today's writing accomplishment: I changed the font on my manuscript. I guess some days it's just impossible to move forward, right?"

Viet Thanh Nguyen:
When I write, I usually sit down in front of the computer and I have two goals. Either I'm going to sit here for four hours, or I'm going to write a thousand words, whichever comes first. But there are some days when even that can't happen, you can't even write 10 crappy words. All I ever did one day was change the font of my manuscript. I thought, "Wow, my manuscript looks better in this different font." And sometimes you have to realize that simply sitting at your desk, for me I never go more than four hours because after that my brain is fried, thinking, trying to do something, that is also a part of writing as well.

Eliza Lomas:
So bad days aside, do you have a better sense of what the book is now?

Viet Thanh Nguyen:
Yeah, it's really a little bit hard to describe because in one way it's a memoir, but it also takes on a lot of political issues that have concerned me. What I'm trying to do is to weave my own personal life and what it meant for me to become an American as a refugee with all of the opportunities that the United States has given me, but also with a recognition of the many complexities and contradictions of American history.

Viet Thanh Nguyen
So it's going to be a pretty serious book, but at the same time, I'm hoping that there will also be elements of humor and satire in it as well, as I try to find a distinctive voice for the book that would match the voice that readers found in my fiction, like The Sympathizer, which takes on very serious issues, but which also is deeply, hopefully funny and satirical and biting as well.

Eliza Lomas:
Does it have a name yet?

Viet Thanh Nguyen:
The name so far is Seek, Memory. And I like it, I don't know if anyone else likes it, but it's a gesture towards Vladimir Nabokov's Speak, Memory, which is also a memoir and Nabokov is a writer that I admire a lot that his Lolita was a big influence on The Sympathizer.

Eliza Lomas:
You mentioned about finding a distinctive voice for this book. Can you tell me more about this? How do you find it?

Viet Thanh Nguyen:
Partly because it's non-fiction and partly because I wanted to distinguish myself from very serious writers. I knew for example, that I could not be Ta-Nehisi Coates. I could not be James Baldwin. I mean, they're great, but I can't approximate what they do. So I have to carve my own path.

Viet Thanh Nguyen:
And what I want to do is find a voice that would be more approximating the voice that I developed giving lectures. I don't read speeches. I have notes. I try to connect to the audience, which means that the style is more colloquial. I don't try to use big words. I don't try to have big dense paragraphs.

Viet Thanh Nguyen:
I'm trying to make my points very succinctly and to use jokes to ease a seriousness and to carry the listeners along. And so the form of Seek, Memory tries to approximate a little bit, some of what it's like, if you were a listener to hear some of my speeches, that these would be more oral in their effect.

Eliza Lomas:
You're listening to the BBC world service. I'm Eliza Lomas and I'm in the studio with Viet Thanh Nguyen.

Eliza Lomas:
So tell me about the narrative for the memoir. Does it begin with early life and tell the story in a linear way, or does it flip timeframes?

Viet Thanh Nguyen:
I think the book is generally linear. It will begin with refugee experiences and it will end in the present, but there's a lot of back and forth in time. And that partly reflects obviously how memory works for me and for most of us.

Eliza Lomas:
So tell me more about the decisions that you're making for this book. And is there anything that you're finding particularly challenging?

Viet Thanh Nguyen:
When I actually got into the writing of the book itself and made certain kinds of decisions, things started to clarify. For example, I decided just arbitrarily that I'm going to write 26 chapters and start each chapter with the letter of the alphabet.

Viet Thanh Nguyen:
There's no reason for this, except that part of the book reflects on my relationship to language and writing, and why not use the ABCs to organize the book? It was inspired loosely by one of my favorite writers, Antonio Lobo Antunes. I'm just stealing from him, but making an arbitrary structural decision like that just means that that's one thing last that I have to think about. 26 chapters, they will be 2000 words each for example. And so I don't have to worry about those kinds of decisions. I can just start writing within that format.

Viet Thanh Nguyen:
Once I got into that, started writing about my life and its relationship to politics or race or whatever's happening, the thing that started to emerge a real issue for me, how much to reveal about my personal life. This book is not meant to be a tell-all autobiography that exhaustively recounts everything that happened to me from birth until the present and that will become a 500 page tome. Not everything is interesting. These are difficult decisions. I think that any kind of memoirist or person writing about their own life has to engage with, and that's been the most challenging aspect so far.

Eliza Lomas:
As the year draws to a close and winter descends, I speak to Viet for the final time. In our first chat back in February, he told me he was aiming to finish a draft by fall. So where is he at?

Viet Thanh Nguyen:
Well, I had a pretty good time writing the book through the summer. I think I got to around 20-25,000 words. And then what happened starting in September or August was that I had to start teaching. I'm a professor so I have a job, and I only had to teach one class. So I have very little to complain about, but it was a graduate level seminar with 19 doctoral students.

Viet Thanh Nguyen:
And our topic was decolonization, which was a new thing for me that I wanted to read about, to learn more because this non-fiction book will deal with the problem of colonization and decolonization. So I have a lot to learn, which meant that I had to read a lot for the seminar. And so that was a huge distraction on my time. And this has historically been my experience when I teach, I get very little writing done during a semester.

Viet Thanh Nguyen:
And then of course, what also happened in the fall was the presidential election in the United States. And I was just obsessed with following what was going on and doing a lot of social media stuff about the presidential election and just being generally really distracted by that. So the manuscript just sort of went fallow for three months. The presidential elections happened. It was a huge relief for me personally. And I finished my semester, finished reading, finished grading my students' papers. And just in the past couple of weeks, I think, I wrote a lot with all this pent up energy.

Viet Thanh Nguyen:
And I'm looking at 198 pages right now of this manuscript. And I am at the halfway point of the book. If you're a writer, halfway through a book is a very important point in the book. This is the big turning point that you should have in a book. For me, the big turning point is the death of my mother in 2018.

Viet Thanh Nguyen:
So I spent this morning looking at the computer screen and not being able to write, because this is a very difficult thing for me to write about, how do I do this? Maybe half an hour before our conversation I finally started to start writing and I got interrupted, but this is where I thought I would be as I laid out the timeline.

Eliza Lomas:
Have you written about the death of your mother before?

Viet Thanh Nguyen:
When my mother died, I wrote a Facebook post about her. That was my obituary for my mother and that obituary just summarized the highlights of her life, her incredible accomplishments, and obviously my deep sadness over her death. And that turned into a 20 page speech about how to think about my mother's death in relationship to the history that she was involved in. The fact that she was born in 1935, during the period of French colonization, and she was a refugee from North to South Vietnam when the country was divided in 1954. And then she had to flee the country as a refugee in 1975. It's a lot of really incredible history about politics and war and colonization and decolonization.

Viet Thanh Nguyen:
But I know that everything she went through while deeply personal, obviously to her and to me, were not atypical for people of her generation. The responses to the obituary I wrote on Facebook from many Vietnamese people was my mother went through the exact same thing. You know, that generation, everybody went through this. And that's what I want to talk about. My mother's life is important for her and for me as an individual, but her life is also important for the fact that it can stand in for everything that happened to so many people for a generation. So I've just gotten to the point where I can write about the actual, what actually happened in her illness and her death. And then I'll start confronting the politics around her life in the next few weeks.

Eliza Lomas:
So you say you managed to get in the flow this morning. And how did you do it? How have you found it?

Viet Thanh Nguyen:
I have to figure out what the narrative is. The narrative is that this chapter, the 13th chapter of this manuscript, out of 26 chapters, is going to be about the most devastating, difficult decade that I thought we would ever experience. The 1980s take you through the worst moment of the 1980s for my parents and me, which is when we were almost killed at gunpoint in a home invasion of our house. We survived all of that. And then my mother dies. That's the transition. My mother lived through all of that. She didn't get shot by this robber in her own house. She saved herself. She saved my father and me, and then she could not save herself from this last and final illness. That's the narrative of the chapter.

Eliza Lomas:
Wow. That sounds just so momentous and difficult to put all that in one chapter.

Viet Thanh Nguyen:
But I mean, that's the plan. I'm only like 150 words, 200 words into a thousand word, very spare chapter. That's obviously covering a lot of ground, but I couldn't do that if this was again, the conventional manuscript, if this was a hundred thousand word manuscript, I would have to write a lot of chapters, but this is only meant to evoke.

Eliza Lomas:
Can you read me something that you've written today?

Viet Thanh Nguyen:
I'll just read you two paragraphs. This is the first two paragraphs of chapter N the subtitle is Your 1980s, part three or All About your Mother. I have no idea if this is going to stay into the final manuscript.

Viet Thanh Nguyen:
Your parents never tried to be white. They didn't erase what made them Vietnamese. Perhaps they never consciously set out to change America, but they did so in fact. They did so by surviving the 1980s. You imagine that it is the hardest decade of their lives in the United States, except for the 13 years beginning in 2005, when your mother falls gravely ill. She passes away a few days before Christmas in 2018, but you are not there to witness every day of those 13 years as your mother fades. Only your father gets to do that.

Viet Thanh Nguyen:
You are, however, present for every day of the 1980s, until you leave for college in 1988. You cannot to leave home in San Jose to get away as far as you can. But because you are not too smart, the farthest you get is your last choice university in Southern California. Only 3000 miles or so from your first choice university, the one your brother went to. Only in retrospect, some 30 years later, do you feel a degree of shame for wanting to leave your parents home so much. They sacrificed so much for you, and this is how you repay them?

Viet Thanh Nguyen:
The manuscript starts off in the first person, but towards the end of the very first chapter, my parents are shot in an armed robbery at their store when I'm about seven or eight years old.

Viet Thanh Nguyen:
And that moment was so shocking for me at the time that I felt nothing. When you're seven or eight, how are you supposed to process this? You know, my brother picks up the phone, turns to me and says our parents have been shot. I had nothing to say. And he yelled at me for that. Perfectly reasonable. But at seven or eight years of age, I had no idea what I was supposed to say to that.

Viet Thanh Nguyen:
And that numbness is something I wanted to convey by switching at that point into the second person. And my experience of growing up, a lot of it was about just being numb to everything that was happening. As a refugee in the United States, witnessing what my parents were undergoing in the 1980s. Numbness, because the only way I could cope emotionally was to be numb.

Viet Thanh Nguyen:
And so this first half of the manuscript is mostly in the second person to try to convey that. But, I think I'm going to, I already made the decision in my mind that probably in the next chapter I'll switch back to the first person because it's going to signal, hopefully, that I'm finally trying to be able to confront this in a much more intimate way.

Eliza Lomas:
And these are obviously stories that you've told before in your writings and lectures, but is it still painful to relive them in your writing?

Viet Thanh Nguyen:
You know, after the success of The Sympathizer, I got invited to give a lot of speeches. I went out there talking about my parents and I had this very weird, for me, moment in front of like 800 people, giving a lecture, being emotionally paralyzed. I couldn't continue. Being emotionally vulnerable in front of people is terrifying, but also very powerful for me because as a writer, you have to go where it's terrifying.

Viet Thanh Nguyen:
That was a very hard lesson for me to learn. No one can really teach you how to do that. You have to learn it for yourself. And I thought I had done it on the page in the books that I'd written up to now, but learning how to do that in front of people, just like speaking, was a whole nother experience that I'm also trying to recapture now on the page.

Eliza Lomas:
When you read that out to me in that couple of paragraphs, were you happy with it? Or was there anything that you wanted to change?

Viet Thanh Nguyen:
Not yet. I literally wrote this like two hours ago, read them aloud to you for the first time ever to anybody. They're okay. I mean, I don't think it's great or anything like that. You know, again, this is a first draft. So the first draft process is just to try to get the words out, try to get some kind of a structure out, and then I can go back and I can revise at the level of words and rhythms.

Eliza Lomas:
Talking to Viet about how he writes and trying to understand what it takes to bring a memoir like this into being, with the challenges so immense, I wonder if he still enjoys the process.

Viet Thanh Nguyen:
I think generally I enjoy the process. Of course, with anything that's meaningful there are ups and downs. When it's going incredibly well, it feels wonderful. And when it's going badly, it's horrible. Even when it's just going okay, it's still not that great of an experience because you're anxious when you're not writing. You're anxious when you are writing. You're anxious when your book is not being bought and anxious when your book is about to be published.

Viet Thanh Nguyen:
I mean, there's very few moments when the writing process is not stricken by some kind of negative emotion I think. But at the same time the act of creating something with words, the act of being able to put together a sentence, being able to put together a story, the act of just sitting down to write, that is still a fulfilling experience that hopefully will never let me go.

Category: Interviews