John O'Rourke interviews Viet Thanh Nguyen for BU Today about his life, writing, and the choice to be called a refugee.
"I am a spy, a sleeper, a spook, a man of two faces. Perhaps not surprisingly, I am also a man of two minds. I am not some misunderstood mutant from a comic book or a horror movie, although some have treated me as such. I am simply able to see any issue from both sides."
Thus begins Viet Thanh Nguyen's spellbinding debut novel, The Sympathizer, a spy story set during and after the Vietnam War that examines the conflict from the point of view of the Vietnamese rather than that of the United States.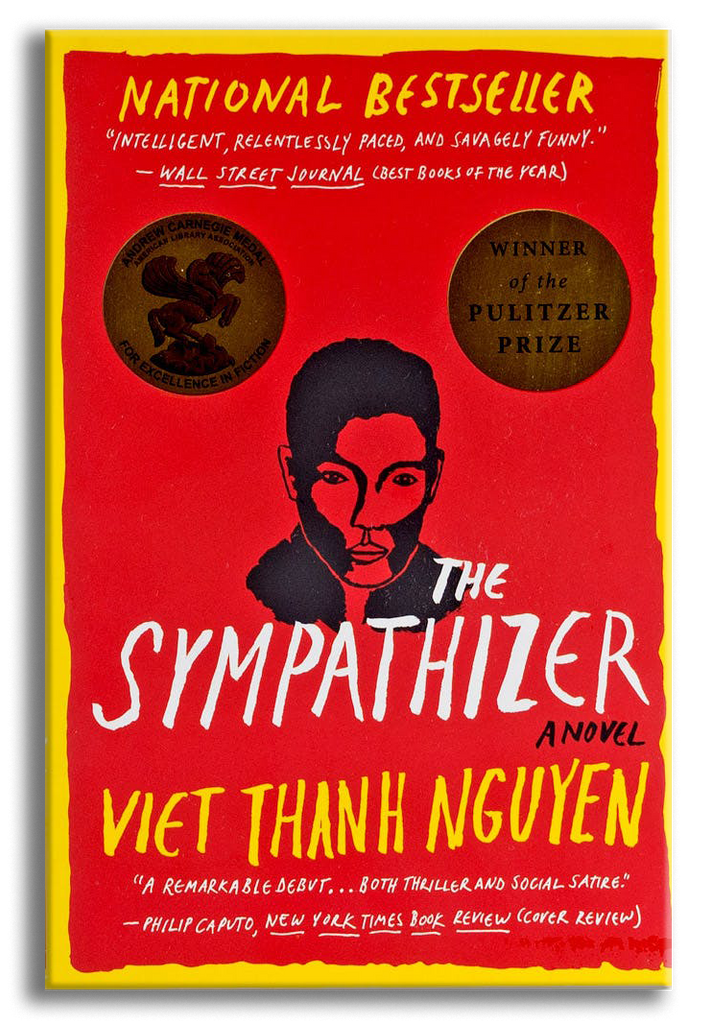 Nguyen will be on campus Wednesday to deliver the 2019 Ha Jin Lecture. His talk, titled Refugee Stories and American Greatness, is at 7 pm in the Kenmore Classroom Building, Room 101, and is free and open to the public, with a Q&A and book signing to follow.
The Sympathizer (Grove Press, 2015), which is both a thriller and an unflinching look at America's role in Vietnam, earned Nguyen, a University of Southern California professor of English, American studies and ethnicity, and comparative literature, the 2016 Pulitzer Prize for Fiction. Judges called the work "profound, startling, and beautifully crafted," adding that it "offers an important and unfamiliar new perspective on the war: that of a conflicted communist sympathizer."
"The most difficult part of writing the novel was actually coming up with the opening line, which took me a whole summer to figure out," says Nguyen, adding that once he'd established the voice of the spy, the rest of the novel came together quickly. "It was a writing experience that was the easiest and best of my life."
With the publication of his short story collection, The Refugees (Grove Press), two years after The Sympathizer, Nguyen's literary reputation was cemented. The short story collection, which took him 17 years to write, also explores the traumas and conflicting loyalties that linger long after the end of a war.
The Vietnam War figures prominently in his nonfiction as well, including Nothing Ever Dies: Vietnam and the Memory of War, which was short-listed for the National Book Award, and The Displaced: Refugee Writers on Refugee Lives, which he edited.
For his lecture at BU, Nguyen says he will draw in part on his own experience as a refugee. He was four when he and his family fled Vietnam following the fall of Saigon and made their way to the United States, where they spent the next three years in a refugee camp in Fort Indiantown Gap, Pa., before they were scattered for 14 months to live with different host families. After being reunited, they settled in San Jose, Calif., where his parents opened a Vietnamese grocery store.
"I will talk a little bit about myself, but connect what I write and who I am to the significance of refugees and their stories and how they fit into the dilemma between this country being an open and welcoming place for people from all over the world and this country as one that is retreating into a smaller version of itself, with refugees at the very center of this dilemma," Nguyen says.
BU Today spoke with Nguyen, a 2017 MacArthur Fellow and a contributing opinion editor to the New York Times, about his work, how winning the Pulitzer Prize changed his life, the current plight of refugees, and why he believes it's so important to provide a different perspective on the Vietnam War than has been presented in American culture. The interview has been edited and condensed.
Q&A
BU Today: What did you set out to do in The Sympathizer?
Nguyen: I set out to write a book that was both very entertaining and also very serious. It's a spy novel that also tackles historical and political issues and attempts to make us look at the Vietnam War again from the perspective of the Vietnamese. I love spy novels, and I was well aware that there were very important spies who were on the Vietnamese Communist side. And I thought that would be a great story line to hang every other issue that I was concerned with on. And then it was a matter of trying to figure out who the spy was. And so I made him someone who was a man of two faces, of two minds, a man of mixed race who was half French, half Vietnamese. I thought that if I did that, then it wouldn't be just a spy novel. He wouldn't be just a spy. He'd be someone who would be caught at the intersection of all that defined the relationship between the stance in Vietnam and the United States—racial differences, cultural differences, imperialism, colonialism, and cultural conflict, in addition to war and politics.
BU Today: You've said that one of the goals of the book is to destroy the American perspective on the Vietnam War. Can you talk more about that?
Nguyen: Growing up in the United States, I was exposed to the American perspective on the Vietnam War. And I felt that it was sorely lacking, because, understandably, it was utterly focused on American experiences. But if you don't happen to be American, especially if you're Vietnamese, you see the inadequacy of that perspective. Americans like to say they really wanted to understand the Vietnam War and the Vietnamese people. But in fact, very few Americans wanted to understand the war from the Vietnamese point of view. So that was very upsetting for anybody who was Vietnamese. The Vietnamese people had suffered tremendously in this war because it was a civil war between different Vietnamese factions. It had a devastating impact upon them. And they were the actors and agents in their own history. I think that Americans assume themselves to always be the actors or the agents where they find themselves. And that completely overlooks the fact that in most of the countries where the United States gets involved, it's mostly the people there that bear the brunt of what happens.
BU Today: The novel earned you the Pulitzer Prize for Fiction. Did that change your life?
Nguyen: I don't think it's changed me personally. But it has changed my life in the sense that more people want to hear what I have to say. And I don't think what I have to say has changed. I think it's given me an opportunity to speak more loudly and in more places. And of course, what changed is that more people buy my books and there is more of a global audience, so all of that has been fantastic.
BU Today: You've described writing your short story collection, The Refugees, as "an utterly miserable experience." Can you explain?
Nguyen: I taught myself how to write by writing The Refugees. I made a lot of mistakes and writing short stories is actually very, very difficult, at least for me. I don't think I have a natural aptitude for the short story form. But I am very stubborn, and I wanted to finish that book. I felt that I couldn't let the book defeat me, because if it did, I wasn't a real writer. It was simply the struggle of learning how to write, which was crucial, essential, and it was a very unpleasant experience. But there's no other way to learn to write except to do the experience of writing and learn for yourself the techniques that you need. And also to learn the endurance that's necessary to be a writer. Having suffered through those 17 years, I emerged out of it capable of writing The Sympathizer.
BU Today: I've read that you insist on calling yourself a refugee, not an immigrant. Why?
Nguyen: The most important reason is because there are so many refugees in the world at this moment. We haven't seen this many refugees since World War II. And the treatment of those refugees in the United States, but also in many other countries, ranges from sort of reluctant hospitality to outright hatred. And so it seems critically important for all of us to stand up and to identify with refugees. And it's even more important for those of us who have been refugees to identify ourselves as refugees so that people know this is what a refugee looks like. The images that we have of refugees as oftentimes being victims and being pathetic and being under horrible circumstances—those are the very particular circumstances people find themselves in as they're trying to escape, as they're undergoing terrible, terrible events. But before they became refugees and after they were refugees, they looked just like everybody else for the most part.
There are so many refugees who call themselves immigrants just because it's easy for them to do so, because we live in a country that sees itself as a nation of immigrants. But to call yourself an immigrant means that you fit into a very standard American story. It's more work to specify who you are as a refugee and to announce it.
BU Today: What has it been like for you to watch as immigrants and refugees have been demonized under the current administration?

Nguyen: Personally, it's very painful, because I think that much of the discourse against immigrants and refugees is at best xenophobic and at worst racist. But I also think it's not surprising. In fact, the United States has oftentimes been anti-refugee, anti-immigrant, and our policies tend to go in cycles. I was lucky to have come at a time in American history, in the 1970s, when the United States was opening its doors to refugees and immigrants after having shut its doors for many decades. Now, we're in a moment where some people are trying to shut that door again. And the impulse to shut that door, unfortunately, comes not from an exception in American character, but from a fundamental aspect of American character, which is that racism and xenophobia have always been in the United States since our very origins.
BU Today: You teach English and American and ethnic studies at USC. What advice do you give young writers?
In order to be a writer, you only need to do two things: one is to write and the other is to endure. These are very, very hard things to do, and you can take classes, you can get an MFA, and they may or may not teach you these things. They teach you techniques. They teach you about careers. But in the end, all it takes to be a writer is literally to write thousands of hours and literally endure hundreds of rejections and the daily indignities of people not caring about what you do. If you can do those two things and have a minimum of talent, you can become a writer.
When I was 20, I had a vision, but I didn't have a voice. It would take 20 years of writing, enduring, and struggling in order to find what that voice is. But once you find that voice you can articulate the vision you have.