Philip Cu-Unjieng writes in The Philippine Star about the unlikely circumstances that brought him and Viet Thanh Nguyen together.
When Pulitzer Prize for Fiction 2016 winner Viet Thanh Nguyen was in Manila for the Philippine Readers and Writers Festival, organized by National Book Store and held at the Raffles, his very last night before flying back to Los Angeles was to have dinner at the residence of a dear friend he's had for close to five years now. This friend was no other than my investment banker brother, Stevie Cu Unjieng. It's not often you share a dinner table with a Pulitzer Prize winner for contemporary fiction, which, as anyone who follows my column knows, is one of my deep passions. So just a few seats away was the author of The Sympathizer and The Refugees, and it was great to meet him, and have him in such an informal, expansive, and relaxed mode.
The story behind how Stevie became Viet's friend is so far fetched, it just had to be true. As Stevie recounted during the dinner, The Sympathizer novel had just come out to rave reviews in the New York Times. After reading the book and being so impressed, he paid attention to the back flap of the book. You know how in the book jacket's back flap it says if you enjoyed the book and want to drop a line to the author? Well, Stevie actually went the extra mile to e-mail a congratulatory note, and lo and behold, he got a response from Viet himself. As Stevie joked, the takeaway would be, "If you want to befriend a Pulitzer Prize-winning author, reach out to him or her before he or she wins the Prize!" — and the numerous other awards and accolades the book earned.
With renowned authors (or celebrities), we'd presume their publishing agent would set-up a system for handling replies to these kind of missives from "fans." Call it early days for Viet's star to rise, but he's always been genuinely interested in reader feedback, and he was handling these letters himself. Laughing, Viet expanded on how one thing led to another, they met while he was touring for the book, and it's been a genuine friendship where, every so often, Viet even seeks financial advice from Stevie.
Viet is now Aerol Arnold chair of English and professor of English and American Studies and Ethnicity at the University of Southern California, so it's quite often that news desks in the US turn to him as a resource speaker to talk about race, displacement, migrant family situations, and refugees. As Stevie expounded, he mentioned how it must be a welcome sight for immigrants to see such a face, as Viet has really lived the life himself. At the age of four, his family fled Saigon, actually transited in the Philippines, before flying on to a refugee camp in Pennsylvania. Eventually moving to California, Viet knows from experience what the displaced citizen plight is all about. Better him than some WASP professor or immigration officer pontificating about the refugee situation or life.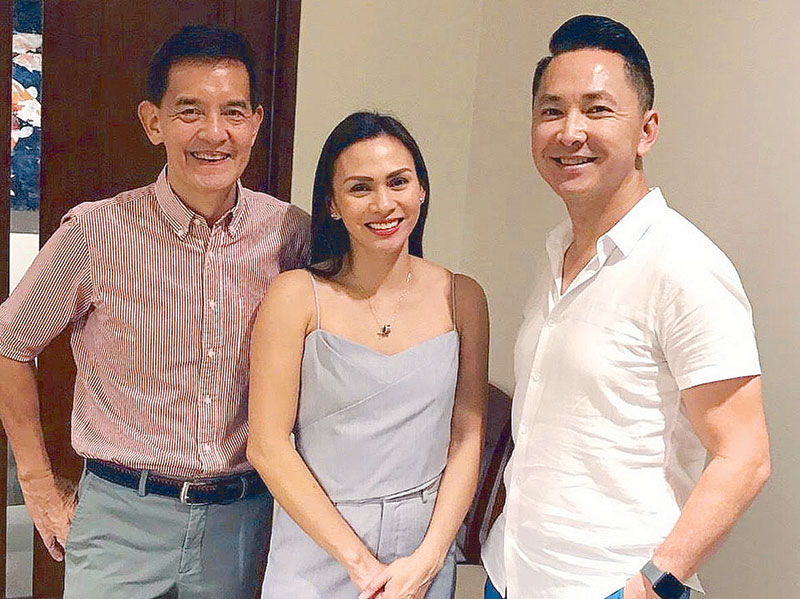 For those who were wondering, Viet is in the final stages of writing his next novel. It's set in Paris, and can be seen as a sequel to The Sympathizer. Hopefully, it'll be out by next year, around the same time that his second child will be born. This was greeted with smiles by guests, including Tessie Sy-Coson with daughter Mara, Luis and Libet Virata with Alonzo, Hans and Regina Sicat, Jonjon Rufino and Roni Fortich and JM Araneta. Articulate, friendly and an astute conversationalist, Viet charmed the room; and we were all happy to have made his acquaintance.
Category: News