Michael Schaub for the Los Angeles Times reports on Bill Gates' favorite books of 2017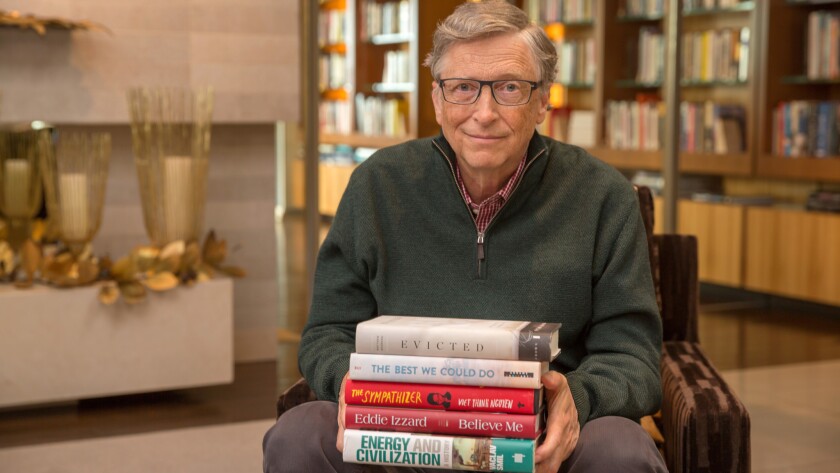 Bill Gates made his name in the world of computers, but he's also become known in the literary world as a not-so-secret book nerd. For the fifth year in a row, the Microsoft co-founder and prolific philanthropist has published a list of his five favorite books of the year.
Gates unveiled his picks Monday morning on his blog, Gates Notes. This year, the computer magnate's selections include "The Sympathizer," the Pulitzer Prize-winning novel by Times critic-at-large Viet Thanh Nguyen. The book, published in 2015, tells the story of a Vietnamese double agent who moves to Southern California after the war and consults on a Hollywood film about it.
"I don't usually reach for historical fiction, but when a good friend recommended it, I picked up a copy — and I'm glad I did," Gates wrote. "Despite how dark it is, 'The Sympathizer' is still a fast-paced, entertaining read."
A second Pulitzer Prize winner on Gates' list is Matthew Desmond's "Evicted: Poverty and Profit in the American City," a 2016 book about landlords and tenants in Milwaukee that also won the National Book Critics Circle Award for Nonfiction. Gates called the book "a brilliant portrait of Americans living in poverty."
"'Evicted' is well worth reading for anyone who wants to better understand poverty in America," Gates said. "It is beautifully written, thought-provoking, and unforgettable."
Gates gave his imprimatur to two memoirs, the first of which, "The Best We Could Do," is the debut book by Berkeley author Thi Bui. The graphic memoir tells the story of Bui's family's escape from Vietnam in the 1970s.
"I was struck by how the experiences Bui illustrates manage to be both universal and specific to their circumstances," Gates noted. "Any parent will recognize many of the challenges her mom and dad faced raising their four kids. I thought she did a great job capturing how daunting it feels to be responsible for your family."
The other memoir to make Gates' list was "Believe Me: A Memoir of Love, Death, and Jazz Chickens" by British comedian and actor Eddie Izzard, whom Gates calls "a comic genius."
"I've recently discovered that I have a lot in common with a funny, dyslexic, transgender actor, comedian, escape artist, unicyclist, ultra-marathoner, and pilot from Great Britain. Except all of the above," Gates wrote. "We're all cut from the same cloth. In his words, 'We are all totally different, but we are all exactly the same.' "
Gates' final pick is by one of his favorite authors, Czech-born scientist Vaclav Smil, whose 2017 book "Energy and Civilization: A History" earned praise from the Microsoft magnate.
"I've read nearly all of his 37 books. I wait for new Smil books the way some people wait for the next 'Star Wars' movie," Gates gushed. "In his latest book, 'Energy and Civilization: A History,' he goes deep and broad to explain how innovations in humans' ability to turn energy into heat, light, and motion have been a driving force behind our cultural and economic progress over the past 10,000 years."
In his blog post, Gates reaffirmed his love for the written word.
"Reading is my favorite way to indulge my curiosity," he said, "Although I'm lucky that I get to meet with a lot of interesting people and visit fascinating places through my work, I still think books are the best way to explore new topics that interest you."